Website Design Company in Mumbai – Custom Tailored, Engaging, Modern
Are you looking for a responsive website design that truly imparts the essence of your business and what you do?
Want a customised web design that reflects your brand personality?
Seeking for a user-friendly, highly engaging and visually appealing website? If these are your requirements, then your search ends here.
Website Design Services – Elegant, Eye-Catching, Easy to Grasp
The majority of the visitors' land on websites that are appealing to the eye in contrast to a page with cluttered information. It's crucial to build an effective strategy that takes user experience and consumer behaviour into consideration. BeeDev, a website design company in Mumbai designs websites that are not only visually stunning but also strategically lead your visitors along the journey of being your customers.
One of the significant advantages you get from responsive site improvement is the total responsiveness and similarity with cell phones. Versatility has been expanding exponentially, and accordingly you have to ensure that your site looks engaging and useful on a wide range of cell phones.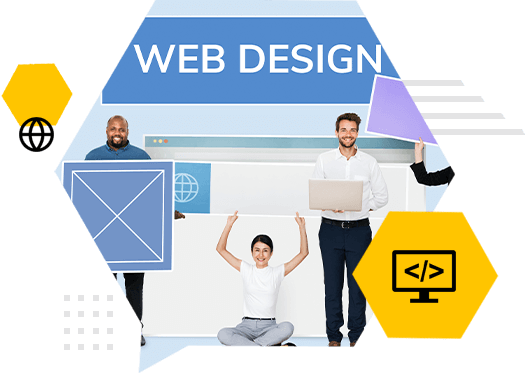 When Designing A Responsive Website, Several Factors Are Considered to Make Your Website Outstanding
Contemporary design that speaks volume Industry-specific design outline
Friendly, clear and clean graphic design layout
Categorized design that is specific to your business, personal or other particulars
Responsive website design design that provides ease of accessibility on different devices
User-friendly navigation
Enticing arrangement that highlights your key points and connects effectively with the visitor
Easy to use shopping carts, contact options, and other such elements needful for your website
Flexible design approach
Affordable pricing Innovative and stout UI/UX design
Created using the best and a wide range of tools and technologies, integrating the most suitable one which fits the website design best
Multiple layouts and design approach during the initiation to find the best one
Thorough testing and analysis to deliver a robust solution with no issue or problem
Small to large business website design
Complete satisfaction to the client
Our Team Personifies Your Brand Through Our Web Designing Skills: Adapt Multiple Platforms Seamlessly
Exceptional Service Vetted By Our Team Of Professionals
By having the users engaged with your website through its responsive website design along with an enhanced user experience, we generate interest among your consumers. Creating innovative, meaningful and up-to date digital experience we ensure high conversion among the target audience.
24/7/365 Online Support
We believe in a long-lasting relationship and ensure that we are present whenever you need our assistance with your responsive web design. We maintain our reputation of being one of the best website design company in Mumbai by using technical assistance to make your website visually appealing, we guarantee that your website is among the top choices.
BeeDev – Web Development Agency & Online Marketing Agency in Mumbai
The digital and technological field is constantly evolving. And the world of web is accelerating, always. Thereby, we know what it takes to keep you stay ahead in the game continuously. Incorporating a dynamic, flexible, and future-centric approach we blend technology with the art of digital structure expertise to bring you desired results.
Enquire Now!