Unique Domain Name Servers For Visibility and Online Presence
DNS (Domain Name System) is a hosting service that makes your website unique and helps you have an identity for your brand to exist in the online medium. DNS hosting gives your website an upgrade in terms of speed and enhanced user-experience along with complete control of your web page.
BeeDev Solutions offers dynamic DNS hosting service to a range of businesses across the globe, helping them connect and operate their domains professionally. We also optimize your website for improved performance and security. With us webmasters and business owners can operate domain name servers which are integrated with domain name registrars and web hosting services in an effective way.
We offer free and premium DNS – So pick what fits you and your website best.
Client-Specific DNS Hosting
Dedicated IPs along with custom server names
Customized server locations
A dedicated DNS manager
Full, integrated and secured protection for DNS
Control panel for DNS to help you manage, monitor and keep up with the progress.
Professional DNS Hosting Service – For Any Domain, Located Anywhere
We provide top notch, and quality service that are fully optimized. Our service guarantees low latency and high availability of DNS hostings, one that offers a seamless web hosting service for a smooth process of incoming traffic.
A free DNS server works for running a personal blog however a premium DNS server is preferred for running an e-commerce platform, due to its efficiency and advanced features it provides.
Our service and support for clients is 24/7, along with an in-built management console.
Features Of Our DNS Hosting
You get a structure and ordered support that will boost your website's performance and optimize it for better reach and visibility.
We channel the traffic to the nearest, custom server on the network, allowing fast address resolution with no botch.
Our hosting structure fulfills all requirements and provides full uptime, therefore leading an error-free process.
High-end security which guarantees a secured network from any DDos attack.
Features Of Our DNS Hosting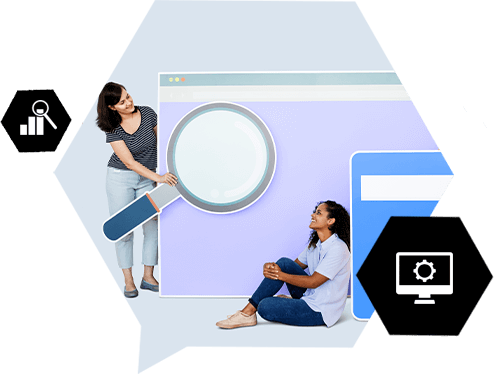 BeeDev – Web Development Agency & Online Marketing Agency in Mumbai
The digital and technological field is constantly evolving. And the world of web is accelerating, always. Thereby, we know what it takes to keep you stay ahead in the game continuously. Incorporating a dynamic, flexible, and future-centric approach we blend technology with the art of digital structure expertise to bring you desired results.
Enquire Now!